Suitable bikes
The road surface is hard-top in Addis, and for some of the way on the main roads from Addis to the main towns. The road south to Kenya is tarmac all the way. (See our route description for more precise information.) Where there is no tarmac, the roads are gravel of varying quality.
We each took steel audax road bikes, with 700mm road wheels. We replaced the tyres with 35cm, kevlar lined, tyres – as thick and knobbly as possible while fitting our frames. These bikes were suitable for tarmac surfaces, and short distances on well-graded unsurfaced roads, but for long distances on unsurfaced roads, you should consider using mountain bikes instead. Our bikes do not have suspension: you quickly get used to the bumpier ride, and this is one fewer thing to go wrong.
The North of the country is mountainous, and there are some steep roads. Unless you are a very strong cyclist, you are likely to need a triple chain ring for the steep ascents.
Transporting bikes
We took our bikes with us. Most airlines, including British Airways and Ethiopian Airlines, will carry bikes, either free or for a modest charge. You can pick up an empty bike box from your local bike shop, and pack your bike in that; or alternatively buy a more elaborate padded bag or hardened case for your bike. At minimum, remember to let out the air from the tyres, so that they don't explode in the de-pressurized luggage hold of the plane.
Distances, road surfaces and speed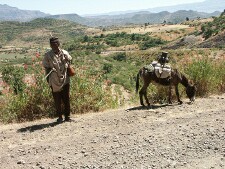 Ethiopia is a large country (for comparision, it is about twice the size of France); but it is heavily populated, especially around the main roads. The towns along the main roads are typically 25km-50km apart, which means that you can, in principle, cycle on to the next town if you do not find somewhere to stay.
The combination of poor road surfaces and high altitudes means that your daily mileage will be substantially lower than you might expect if you are used to cycling on tarmac roads in Europe. We averaged about 20km/hour on tarmac, and much slower than this on the relatively few occasions when we ventured onto unmade roads.
Support vehicle
We hired a driver and a four-wheel drive vehicle, big enough for two bikes, for our entire trip. You can do this informally in Addis Ababa (it is a good idea to arrange it in advance). It is not very expensive, though obviously this adds considerably to the total cost of the trip.
Our main reason for having a support vehicle was that if we were unable to find accommodation, it might be several hours cycling before the next town, and we wanted to avoid cycling in the dark. In practice, we never had any difficulty finding accommodation where we wanted to stop, so this was probably excessively cautious. Taking a vehicle had a number of other advantages: we did not have to carry all our belongings in panniers; it gave us an alternative if we had a breakdown requiring a mechanic; some roads (especially near Lalibela) would have been impassable by road bike; and we could be more certain about our date and time of arrival.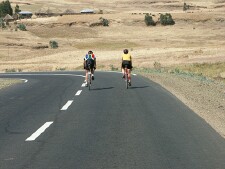 You could do this trip without your own driver and vehicle, if you are prepared to use the buses as a fall-back form of transport. You would be able to load your bikes onto the top of the bus. However, the buses are not especially frequent in some parts of the country. This would be less flexible, but adequate as a fall-back if you are not in a hurry.
We found travelling with a driver was helpful in other ways: he was able to translate and negotiate for us; and of course we learned much about Ethiopian language and culture from him. We would probably have been a little less adventurous if we had been travelling on our own. So if you can afford it, on balance, we would recommend that you try to arrange to have a driver and vehicle with you.
Spare parts
Though you will get mechanical assistance in most towns in Ethiopia, suitable spare parts for your bike are unlikely to be available. Bring with you a selection of key parts, such as tyres, inner tubes, emergency spokes, brake pads, and some suitable nuts and bolts, so that you can make emergency repairs if necessary. (We were lucky, and did not even suffer a puncture.) You are also likely to need some lubricant suitable for hot, dusty roads. Take a suitable pump. If you are planning to carry everything with you, remember that you will need a rack and suitable panniers.
Clothing
We dressed fairly conservatively – that is, long sleeved tops and trousers – while visiting towns and villages, particularly when visiting churches and other religious buildings (women are sometimes not admitted to churches, and must cover their head.) This also has the advantage of protecting you from the sun. But while cycling, we wore lycra cycling shorts and cycling tops, of the sort that are commonly worn in Europe and the US. This seemed acceptable almost everywhere.
Hiring bikes
We did not investigate hiring bikes. It seems likely that you would be able to hire bikes by the day in Addis Ababa – for example, to cycle up to Entoto; but if you are depending on hiring bikes suitable for a longer time to take them out of the capital, you should make arrangements in advance.
Maps
We used the Michelin 1cm=40km map of North East Africa (number 954) and International Travel Maps 1cm=20km map of Ethiopia (International Travel Maps, 530 West Broadway, Vancouver, British Colombia, Canada V5Z 1E9). We found Philip Brigg's Guide to Ethiopia (Bradt Publications – ISBN 1 898323 09 7 excellent (and rather less patronising than the Lonely Planet guide).
However, the position and names of villages did not appear to correspond to the maps, particularly in respect of the road between Addis Ababa and Bahir Dar. We found that locals had a much better idea of distances between towns, and the facilities available, than the maps.
Packing list
Bikes, spare parts (see above), panniers, pump, lock
Malaria tablets, toothbrush, toothpaste, soap, travel wash
Cycling shorts, tops, socks, bike shoes
Long sleeve shirts, long trousers
Sun hat, and (women) headgear for churches
Warm fleece and waterproof anorak
Sleeping liner (eg silk or similar) to line beds of cheap hotels
Mosquito net
Torch
US Dollars to change
Camera
Maps and travel guide