[xls]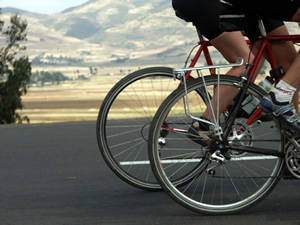 In 2002, Grethe Petersen and Owen Barder spent two weeks cycling in Northern Ethiopia.
Ethiopia is an amazing country. It has beautiful and dramatic scenery, and an extraordinarily rich history and culture; the people are intelligent, welcoming and proud.
It is fairly unusual to go on cycling holidays in Ethiopia. We planned our own route and made our own arrangements partly to give us flexibility to combine cycling and sightseeing. There are few organised cycling tours, and so we thought we should record our experiences for other people who may be considering doing something similar. See our notes about cycling in Ethiopia, and more general practical information for tourism in Ethiopia.
Our itinerary
We flew to Addis Ababa, and cycled from there through Debre Birhan, Debre Sina and Kombolcha to Dessie. From there we drove to Lalibela, and then flew to Bahir Dar. We drove south from Bahir Dar, and cycled from the Blue Nile Gorge through Debre Markos back to Addis Ababa.
We timed our trip to coincide with the Great Ethiopian Run, which takes place in late October or early November. We left Addis the following day – this timing ensured that we were cycling after the rainy season had finished, but before the very hot weather had begun.
Our full route description is here. We wanted to combine our cycling holiday with meeting up with Owen's non-cycling sister, Virginia, who travelled by plane to Lalibela and Bahir Dar. We thought it was particularly important not to miss Lalibela (described here), even though it is not easily accessible by bike – and with hindsight, this was absolutely the right decision.
Our experience
This was the holiday of a lifetime. We fell in love with the country and the people. Cycling through Ethiopia was the best way to see the country. By air, you do not see rural Ethiopia between the big towns. By car, you go past too quickly. But by bike, you have a chance to savour the sounds and smells of the country, to stop at the roadside and meet people, and begin to get a feel for the country. Of course, a short visit is always too short to get a real feel for any country or people.
Running in Ethiopia
We wanted to see Ethiopia by bike to cover as much distance as possible during our two-week holiday. But as keen runners we decided to take our trainers and got some wonderful experiences while out running.
We timed our trip to arrive the day before the Great Ethiopia Run, a 10km in Addis Ababa. Our experiences are described here.
While we were in Lalibela, we ran to a monastery at the top of the hills behind the village. As we ran, a group of school children joined us. They broke the ice by calling Owen Haile (as in Haile Gebreselassie) and by calling Grethe Deartu, (as in Deartu Tulu). These runners are household names throughout Ethiopia – even to children living in a remote village without television or radio and which has had electricity for only seven years. Running is a very important part of the Ethiopian culture.
More information
As well as our route, we have included some information about cycling in Ethiopia, some practical information, a short history of Ethiopia, and an FAQ.
We would like to encourage everyone to consider visiting Ethiopia, and for those of you lucky enough to be able to cycle, we recommend cycling there. If you would like any more information about our trip, please do not hesitate to contact us.