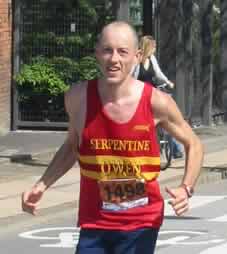 In 1998 I made an ambitious New Year's Resolution to run a marathon in under three hours. I spent six years trying. In that period, I have learned a lot about what does not work; and even wrote a book about running on the basis of my experience. In 2004 I finally reached my goal, running 2:53 in the Copenhagen marathon. It was a marathon in which everything went right, from my training to the race on the day.
Here is what I learned. Some of this I got from books and articles; but mostly this comes from friends who have much more experience than me, who have been generous enough to share some of what they have learned.
I've tried to condense the lessons into seven habits.
1. Train at a variety of different paces, calibrated to your own fitness
Just as your diet should include a variety of different nutrients, your training needs to include a number of different types of workout, each of which improves your running in different ways. None is "better for you" than the others: you need a bit of all of them. You should include long slow runs, lactate threshold runs, VO2 max runs and interval training. In addition, Frank Horwill had the important insight that runners should rehearse their target marathon pace. My Running for Fitness website has details about why you should do each of these workouts and how to figure out the right speed to do them out.
2. Do a big enough mileage
Running is an honest sport: you get out what you put in. You do not want to do endless junk miles (see 1 above) but well judged increases in mileage will repay. For Copenhagen, I peaked at 80 mpw for 2 weeks, about 5-6 weeks before the marathon. This helped me to keep my weight down (see 3). I was able to sustain this higher mileage because my nutrition (see 4 and 5) were better.
3. Lose weight
Carrying less body weight makes a big difference. I lost about 4kg in the six months before my marathon The calculators on the Running For Fitness website suggest that, other things being equal, without this weight loss my time would have been 3:02 instead of 2:53. This doesn't mean you have to go on a diet: you can lose a lot of weight over time by running a bit more and cutting back some of your junk habits (in my case, pastries and muffins, and milky coffee drinks). Just two extra digestive biscuits a day adds up to 5kg a year.
4. Eat better
As well as contributing to weight loss, where necessary, eating better helps your body to adapt to training, improves your immune system, and gives you more energy. It worked for me to cut out sugar, hydrogenated fats, and highly processed foods; and eating some protein with every meal and snack. Sugar, in particular, has no place in an athlete's diet: it is a highly addictive and dangerous drug, which the pushers and peddlars are increasingly including in almost all the food you buy.
5. Eat the right stuff after training
After each workout, your body needs to rebuild and adapt. It must learn to store more glycogen, and you must provide the nutrients to rebuild muscle. If you eat the right stuff immediately after your hard workouts, your body will adapt more and better, and your immunity will be less challenged. I found that using the SIS and Hi5 Protein Recovery drinks made a huge difference to being able to run again the next day, and for avoiding illness during periods of high training intensity.
6. Taper hard
In the three weeks before the marathon, there is little you can do to improve your running; but there is plenty you can do to throw it away. Many runners are doing too much running in the weeks before the marathon. Long runs in the last three weeks will make you tired, but your body does not have time to adapt. None of my runs was longer than 10 miles in the last three weeks. Frank Horwill says that you should maintain the number of times you run, but cut the distance (by 25%, 50% and 75% respectively in each of the last three weeks) and increase the effort. So if you usually do a track workout of 6 x 1 mile, keep doing it, but cut it to 4, 3 and then 2 miles in the last three weeks respectively, increasing the speed at which you do them.
7. Run negative splits (ie run the second half faster)
I had a realistic target time, and a clear race plan, which I stuck to. I started running behind the 3 hour pace group, overtaking them only after about 5km. I ran the first half in 1:28; and the second half in 1:25; with most of the increase in speed in the last 10km. I went from 150th place in the first half to 66th place by the end. It is much better, physiologically and psychologically, to start slowly and speed up during the race. According to Jeff Galloway, each 10 seconds a mile you run too fast in the first half will cost you a minute a mile in the second half.
Conclusion
I can only tell you what worked for me; but all this is built on the advice of those with much more experience than me; including members of the Serpentine Running Club, and the many books that have been written about running. I've tried to encapsulate that advice in my own book, Running for Fitness. I do not claim that it is original; but now that I have put it into practice myself, I can tell you for certain that it works.